When choosing PPE for handling hazardous chemicals in the workplace protection is paramount. But for any business cost is a vital issue: Cost has a direct effect on profits, and profits are what keep us in work.
Given the insidious nature of many hazardous substances, fear of a failure to protect, combined with limited understanding of the hazard and application, often results in over-protection and a tendency to ignore real alternatives that might be just as effective but cost less. Choice of PPE that provides more protection than is needed might bring peace of mind, but it also inevitably means more worry about meeting your PPE budget.

The Challenge of Workplace PPE Selection
The selection of PPE to provide protection against hazardous chemicals in the workplace can be a challenging and time-consuming business. A proper selection process should include: –
A thorough risk assessment considering the hazard (in this case, chemicals that can often have no immediate effect, and yet result in catastrophic longer-term health effects),
The application itself and the demands it presents,
The effect of other PPE that must be worn, and finally,
Consideration of the effect of the environment in which the task occurs.
Too often, a failure to properly understand all these factors results in a tendency to play safe and buy a more expensive option, even though it may be providing workers with more protection than is needed – and is costing more than you need to spend.
This is made worse by the common wide gap in the range of most chemical suit manufacturers. Type 3 & 4 protection often starts with the lower cost entry-level option (usually "the yellow one"), then jumps all the way to the more expensive, heavier option ("the grey one"), and with nothing filling the gap between.
So if the yellow one does not provide sufficient protection, the only option is to jump to the grey one – even though –again– it probably provides more protection than you need, is more uncomfortable than is necessary, and means spending more than you could. There is simply no other option.
But what if there is?
ChemMax® 2 is that option. Based on a long-established single-layer barrier film laminated to spunbonded polypropylene, it is soft and flexible, offers an effective chemical barrier, and nicely fills that product range gap left by most chemical suit product ranges.
What Makes ChemMax 2 the Ideal Alternative Hazmat Suit?
A Chemical suit should be assessed on the basis of the following factors: –
Effectiveness of the chemical barrier
Softness and flexibility of the fabric
Fabric and construction strength properties
Construction design and features
So, let's look at how ChemMax 2 performs in each of these areas.
Effectiveness of the ChemMax 2 Chemical Permeation Barrier
The chemical barrier provided by a chemical suit fabric is normally assessed by a permeation test according to EN 5629 which provides a "breakthrough time" against specific chemicals tested. Whilst this is not suitable to indicate it is safe to wear a suit, it is useful (and intended) for comparison of different suit performance, so is ideal for comparing ChemMax 2 against competitor options.
Lakeland has conducted permeation tests on ChemMax 2 against over 100 chemicals. For 66% of chemicals tested, ChemMax 2 achieves as good as or even a better result than two of the more expensive options ("the grey ones") where a comparative result is available.
Consider some example chemicals in the table below:
Higher concentrations of

Hydrofluoric Acid

(70%) and

Hydrogen Fluoride

Result: Class 6
Equivalent or better than the more expensive options.

Sulfur Trioxide

Result: Class 4
Superior to other alternatives

Chlorine

Result: Class 6
Equivalent to the alternatives

1, 2 Dichloromethane

Result: Class 6
Superior to the two more expensive options
So, even though ChemMax 2 is lighter, more flexible, and less expensive it will commonly provide as good or better protection against many chemicals as other more expensive options.
---
You can download our free ChemMax 2 Guide listing all the chemicals tested along with strength profile tests and comparisons with alternative
competitor options
---
Softness and Flexibility of Hazmat Suit Fabric
Sometimes it's best to go with the known, well-established option. Especially when safety is at stake. ChemMax® 2 is constructed with a unique, long-established chemical barrier film that features a known effective chemical barrier and yet is softer and more flexible than most alternatives offering a similar barrier. As a result, it provides a more comfortable experience for workers.
In addition, ChemMax 2 fabric is white, making it more visible in dim areas. The seam tape is grey making it easily distinguishable from other white coveralls.
Fabric Construction and Strength Properties
Limited life chemical suits are constructed using nonwoven fabrics and films. These are designed as short use fabrics and will never achieve the same strength properties as woven fabric (which, because they are woven cannot achieve an effective chemical barrier.)
Standard testing required as part of CE certification includes a range of tests assessing different strength properties of the garment fabric: –
Abrasion Resistance: A measurement of resistance to abrasion or rubbing.
Flex Cracking: A measurement of flexibility – the number of times a fabric can flex before cracking.
Trapezoidal Tear: Resistance to tearing from a "nick" in the fabric edge.
Tensile Strength: Basic longitudinal strength.
Puncture Resistance: Resistance to puncture by a point.
Seam Strength: The strength of the seams.
The results of these tests are classified according to tables given in EN 14325 to make an easy comparison. Classifications for each start at Class 1 – the lowest – to Class 6, the highest.
So, how does ChemMax 2 perform in these tests compared to other, more expensive options?
The table below compares the results both with three main lower-cost entry-level Type 3 and 4 garments (ChemMax 1 and two similar competitors – "the yellow ones") and three higher costs, multi-layer garments (ChemMax 3 and two competitors – "the grey ones").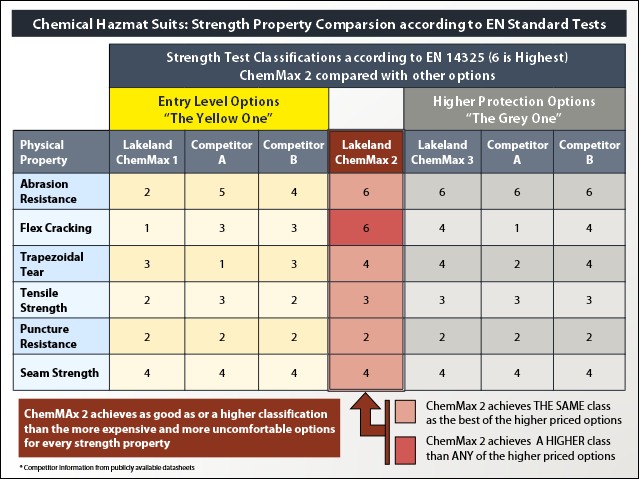 Note that: –
1. In all strength property tests ChemMax 2 achieves as good as or an even better result than all three more expensive and less comfortable options.
2. ChemMax 2 achieves the same classification as the best of the three more expensive and less comfortable options in FIVE of the six physical property tests.
3. ChemMax 2 achieves a higher classification (Class 6) than all three more expensive, less comfortable options (Class 4,1, and 4 respectively) in the flex cracking test. This test measures the number of times the fabric can be flexed before it results in the film cracking (which, of course, could result in penetration of a liquid). The full classification table for flex cracking is shown below: –
EN 14325 Classification for Flex Cracking Resistance (Compression Folding) according to test EN 7854 (Method B)

No of flexes
Classification
No of flexes
Classification
>50,000
6
> 3,000
3
> 20,000
5
> 1,250
2
>8,000
4
> 500
1
Thus, the difference is stark. The three more expensive alternatives achieve only Class 4, between 8,000 and 20,000 flexes. ChemMax 2 achieves Class 6, over 50,000 flexes and at least two-and-a-half times the results of the other three options.
This is indicative of a fabric that will not only be more durable in use (and therefor provide protection for longer), but by definition is softer, more flexible, and therefor more comfortable than the alternatives. And as we have said before… comfort is a safety issue…
Construction Design and Features of Your Chemical Suit
Seams
Like all ChemMax hazmat suits ChemMax 2 is constructed with high-strength sealed seams, stitched, and then taped over to seal all stitch holes. You can discover more about the importance of seam construction in our blog here.
Super-B Design
All ChemMax hazmat suits, including ChemMax 2, use Lakeland's proprietary "Super-B" design. This features a unique combination of three key design features: –
Three-piece hood with shaped center panel
Two-piece crotch gusset
Inset Sleeve Pattern
The importance of design and the effectiveness and benefits of the super-B style are covered in detail in our blog here. However, in summary, this unique design results in a garment that: –
Provides better fit
Enables greater freedom of movement
Offers more comfort
Results in better durability.
The real-world effect of the Super-B design – less stress on the garment in critical areas and reduced pulling back of the sleeves (thus removing the need for thumb-loops) – can be seen in the video below: –
Features
ChemMax 2, along with the other ChemMax coveralls also include exceptional standard features including: –
Double-zip and storm-flap front fastening
The front fastening of any garment provides the greatest risk of penetration by liquids. The double zip and storm flap provides an effective and secure seal
Cushioned knee pads
The possibility of fabrics being punctured when kneeling or crawling is a real risk. As standard ChemMax garments feature a double-layer kneepad with cushioning fabric between, resulting in greater comfort and more security
CE chest label
Unique amongst chemical suits, all ChemMax CE garments feature a chest label that includes all the legally required certification information. This makes it easy for checking the garment is correct for an application – even on-site and after it has been donned by a worker.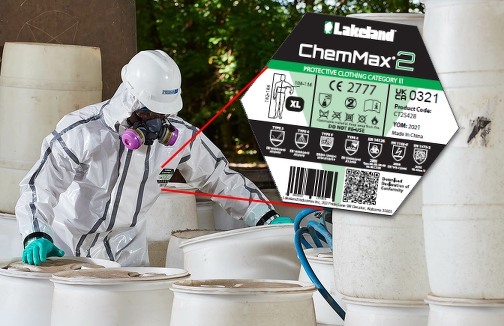 Conclusion: The Chemical Hazmat Suit Real Alternative
ChemMax 2 fills the gap in the market often left unaddressed by other product ranges. And whether looking at chemical permeation resistance, strength properties, comfort level, or design features, ChemMax 2 commonly demonstrates performance that is as good as – if not better – than more expensive and less comfortable options.