"The best fitting, most durable and most comfortable hazmat suit in the world!"
Well, you might think, "They would say that wouldn't they?"
We agree that it's quite a claim. But we think its justified.
This blog explains why.

What is Super-B Chemical Protective Clothing?
Super-B is the unique style of garment introduced by Lakeland for CE-certified PPE-dominated markets. It is defined by three (3) specific design elements with additional features that combine to make a coverall that is better fitting, and therefore more durable and comfortable than any other garment on the market. Those three elements are: –
1. Three-piece hood with shaped center-piece
A three-piece hood is always better than a two-piece because the latter (two sides sewn together with a single seam) can never make a truly 3-dimensional shape. This is obvious with cheap garments featuring two-piece hoods; the top of the hood tends to stick up quite comically! More important than its comic value, however, is the fact that it is less comfortable, does not fit the rim of a face mask well, and can be a potential hazard!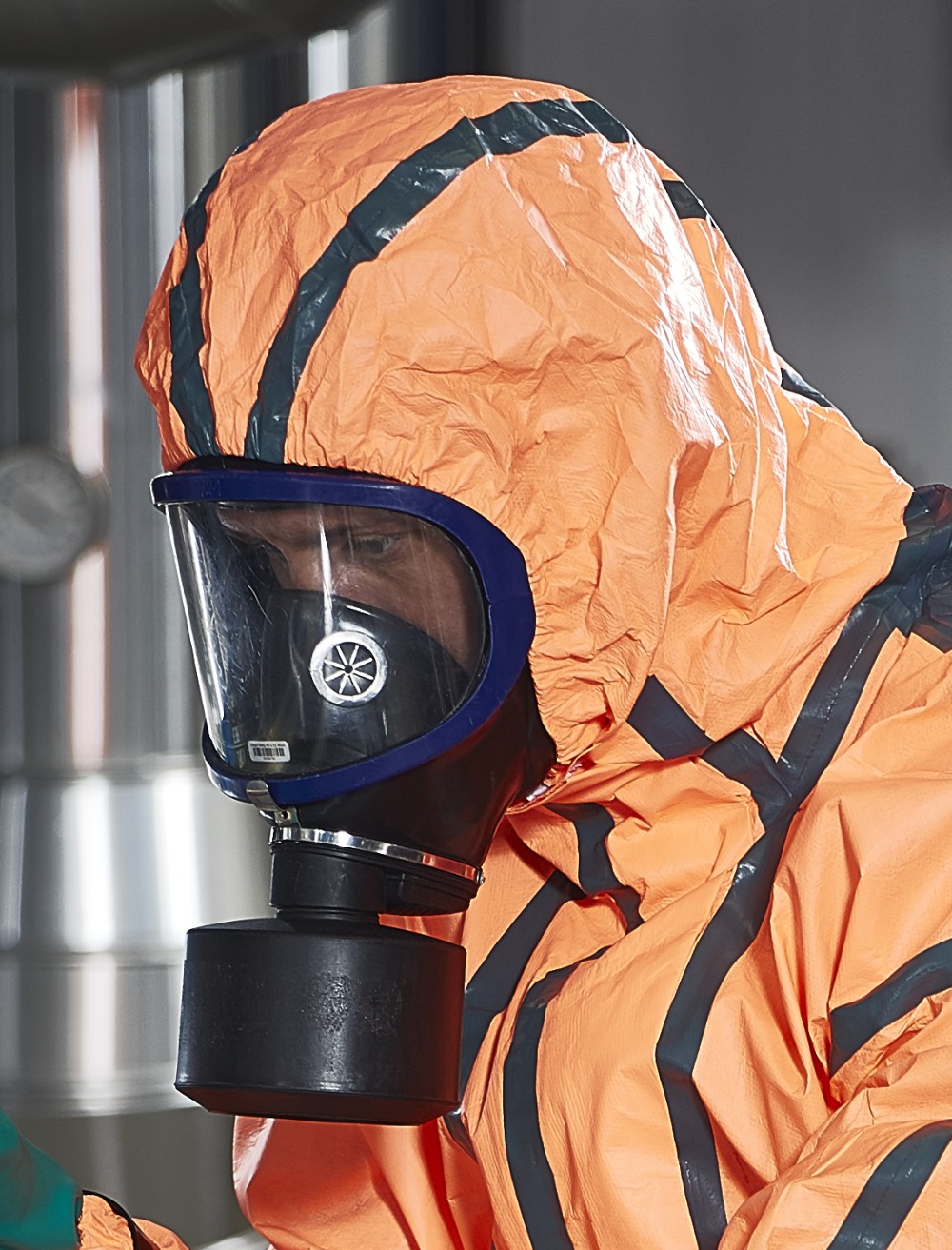 3-piece hoods are now not uncommon (another case of others following the Lakeland lead!) but we went one step further. Our curved center-piece creates an even better fitting hood that is not only more comfortable, but it also moves with the head better without restricting vision, and fits to the rim of most breathing masks more effectively, making it easier to create a seal. (and remember, penetration of a liquid through gaps between the coverall and other PPE is a greater risk than that of permeation through the fabric!)
2. Two-piece crotch gusset
The crotch is not only where a coverall suffers the most stress (walking, climbing, crouching all create considerable strain on the crotch), it is also often the weakest point because four seams (two leg seams and two body) meet at a single point. Seams are inevitably a weakness – and where multiple ones meet even more so.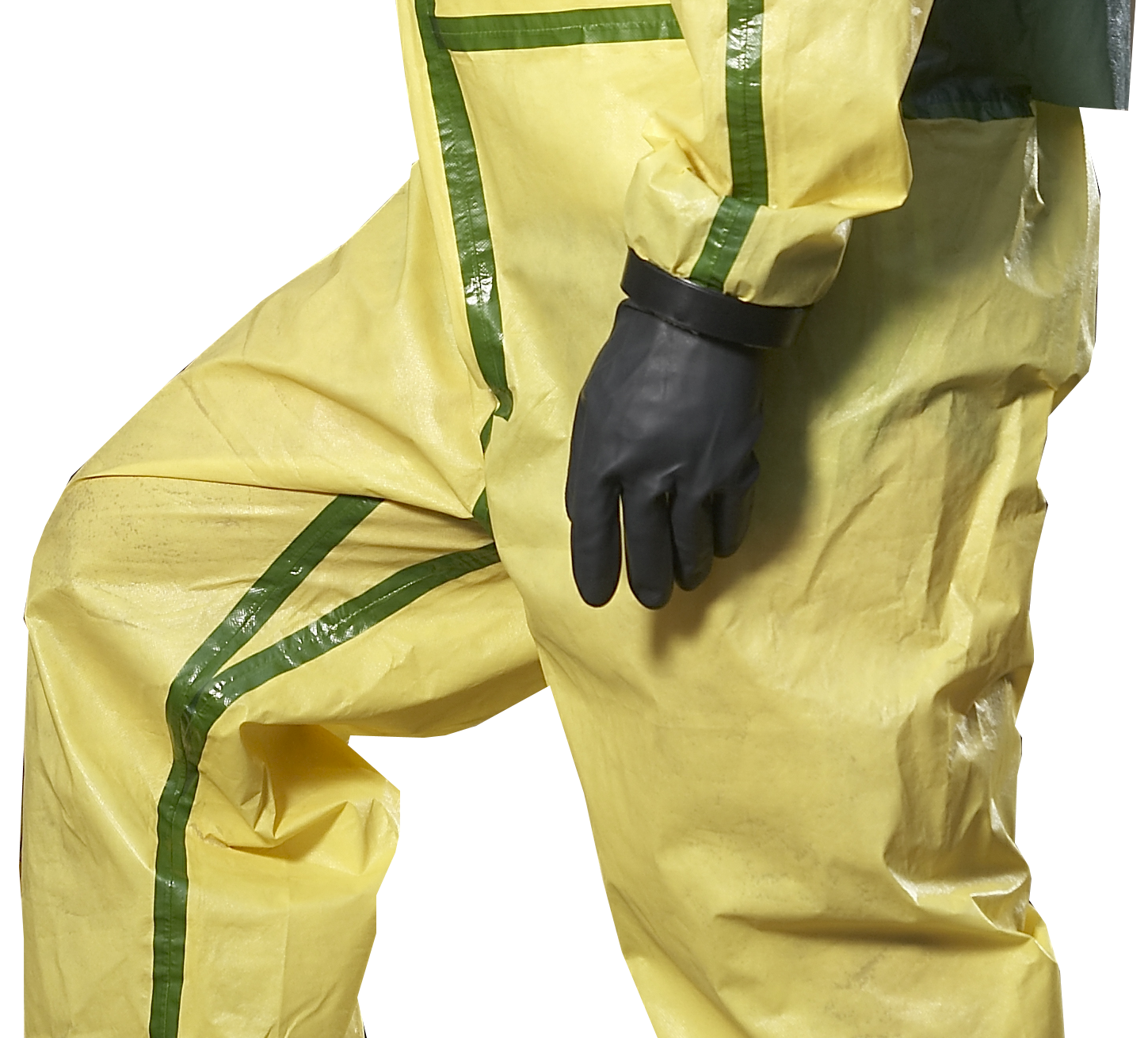 Super-B removes this weakness through the addition of a gusset made from two fabric pieces. This creates a more 3-D shape, allowing greater freedom of movement and spreading the stress across separate seams, the result being a garment that is less prone to bursting at the crotch and thus safer and more durable.
3. Inset Sleeves
Most European disposable garments use what is commonly known as a "bat-wing" style. In this, the under-arm is cut as a curved diagonal from elbow to waist. Some manufacturers justify this with a claim that it allows "more room in the chest", but the reality is it is chosen because it is the cheapest coverall pattern to use, simply because it consumes less fabric.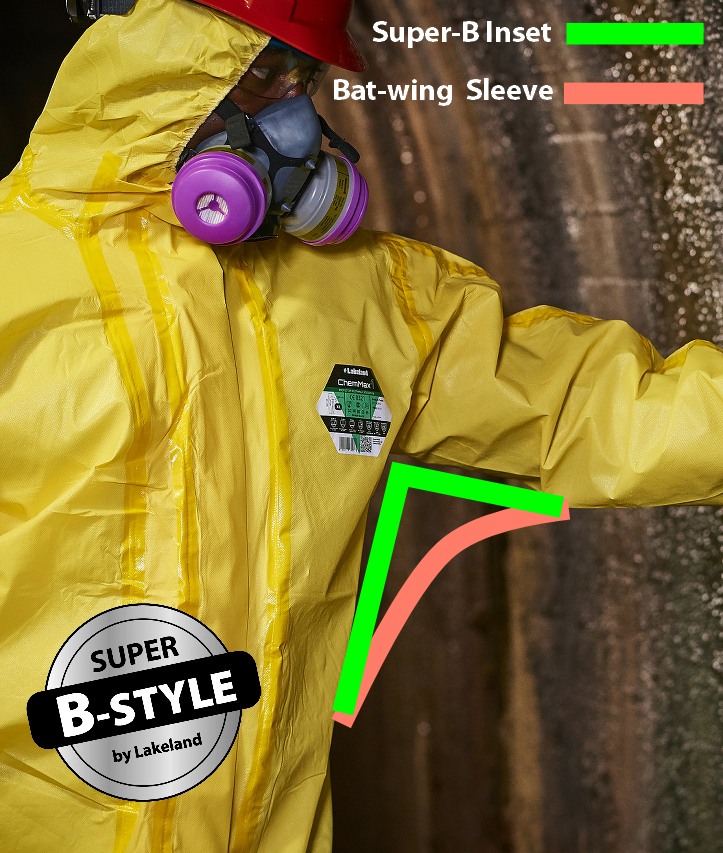 It also, however, creates problems. Basic geometry (Pythagoras's Theorem; "The sum of the hypotenuse…" etc) confirms that: –
a) The line between the elbow and waist (The "Hypotenuse" of the triangle – in red on the image- the "batwing" shape) is shorter than
b) the line that follows the body (The "other two sides" of the triangle – in green on the image – the Lakeland inset sleeve shape).
The result is that in bat-wing garments, when a wearer reaches up there is insufficient fabric to allow movement, and the garment is stretched, with two consequences. First, there is pulling back on the sleeves (this is the real reason why these garments often have thumb loops!), and second, there is a pulling up of the crotch, increasing the stress on it. Manufacturers often counteract this with a longer body length, but the resulting lower hanging crotch creates further problems when walking and especially climbing.
You can see this effect graphically in the video. Watch by clicking the image below.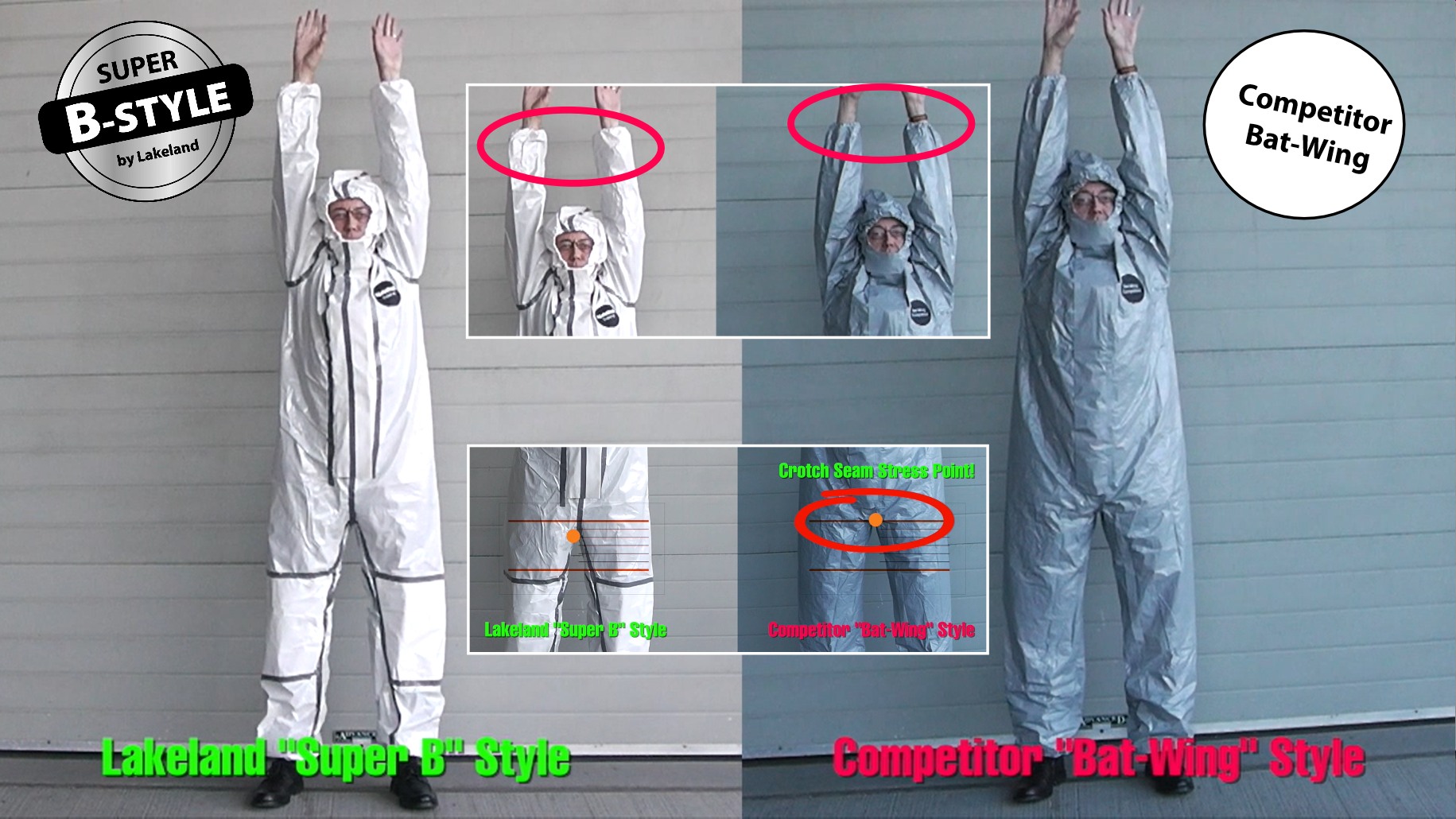 The Lakeland Super-B style solves this problem by not using the bat-wing style at all. Instead an "inset sleeve" is used. In this, the torso and sleeve follow the shape of the body and as a result, there is less pulling back of the sleeves and less pulling up of the torso, allowing a more normal body length – so reducing the stress on the crotch. The result? A better fitting, more comfortable garment that allows greater freedom of movement and is less likely to burst or split in use.
These three elements make up the Super-B style for ChemMax chemical protective clothing. A unique combination of design features that justifies that claim of the best designed, best fitting, most durable, and most comfortable garment available.
You can download our free infographic, showing all the elements that make up the superior Super-B ChemMax chemical protective hazmat suit by clicking the image below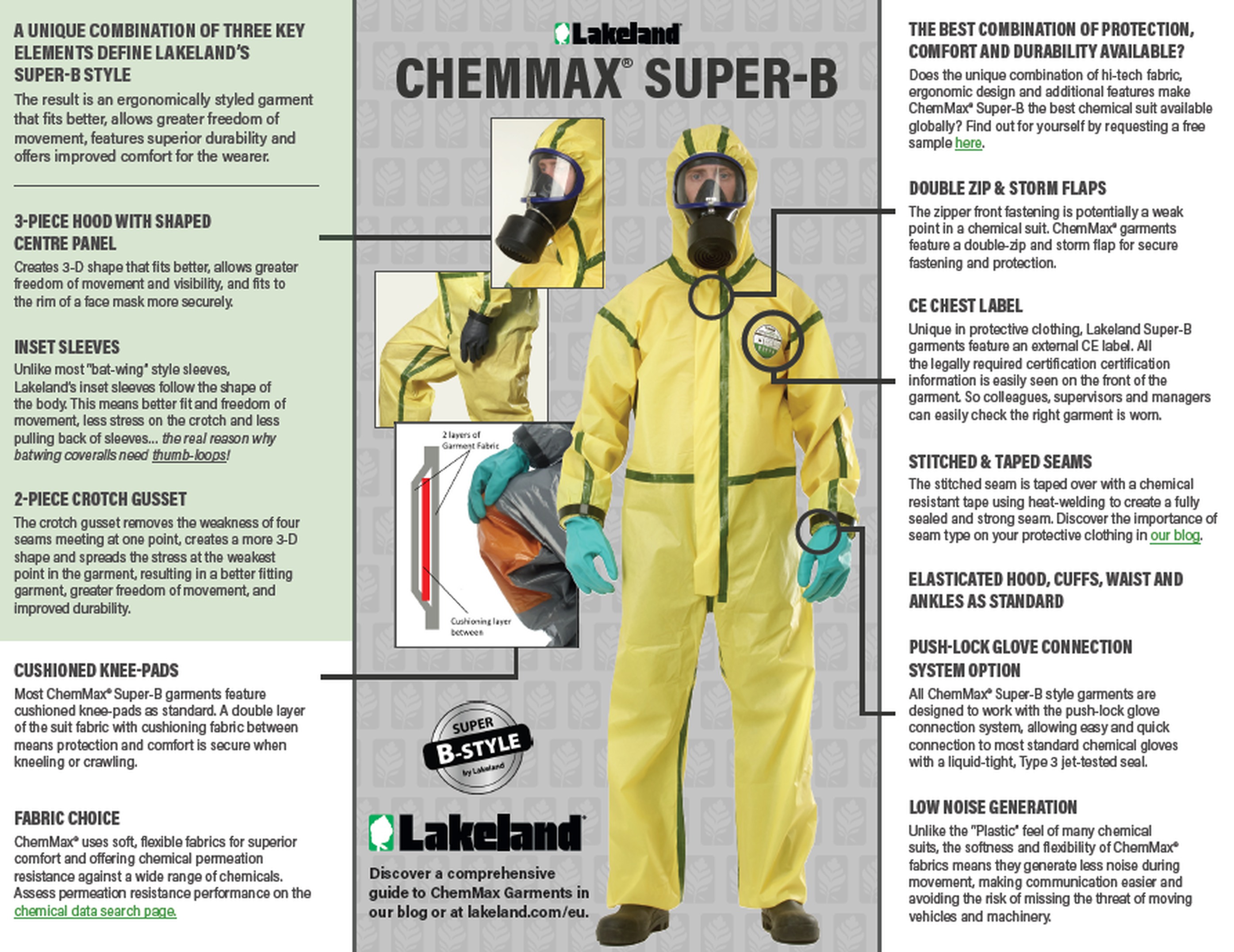 …and as if that wasn't enough to influence your Chemical Hazmat Suit Choice…
…there is more. ChemMax® clothing also features additional design elements that make them an even more effective choice for your chemical protection.
Cushioned knee-pads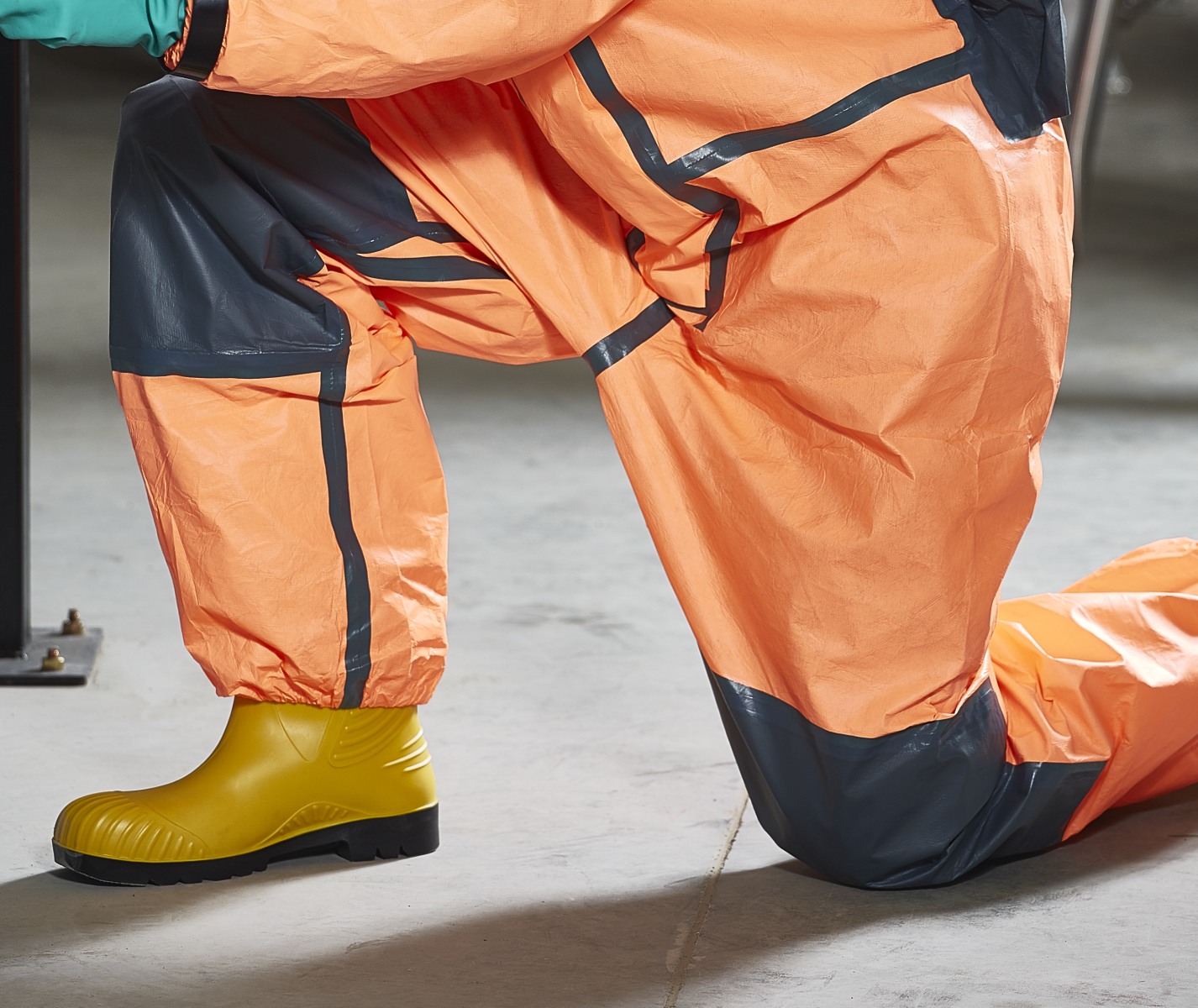 The nonwoven/film-based fabrics used for most limited life protective clothing is simply not designed for the stress and abrasion that can come from crawling or kneeling on a rough factory floor. Yet this is a common need, and if the fabric is punctured by grit or other abrasive contact, it could then allow penetration of a chemical. In addition, the fabrics are quite thin so provide little support for the wearer when kneeling.
To address this problem Lakeland has added cushioned kneepads to all ChemMaX® Super-B garments as standard. These feature a double layer of the garment chemical resistant fabric with a cushioning layer between. This results in greater confidence in safety and better comfort if a user must kneel or crawl during an application.
Double zip and storm flap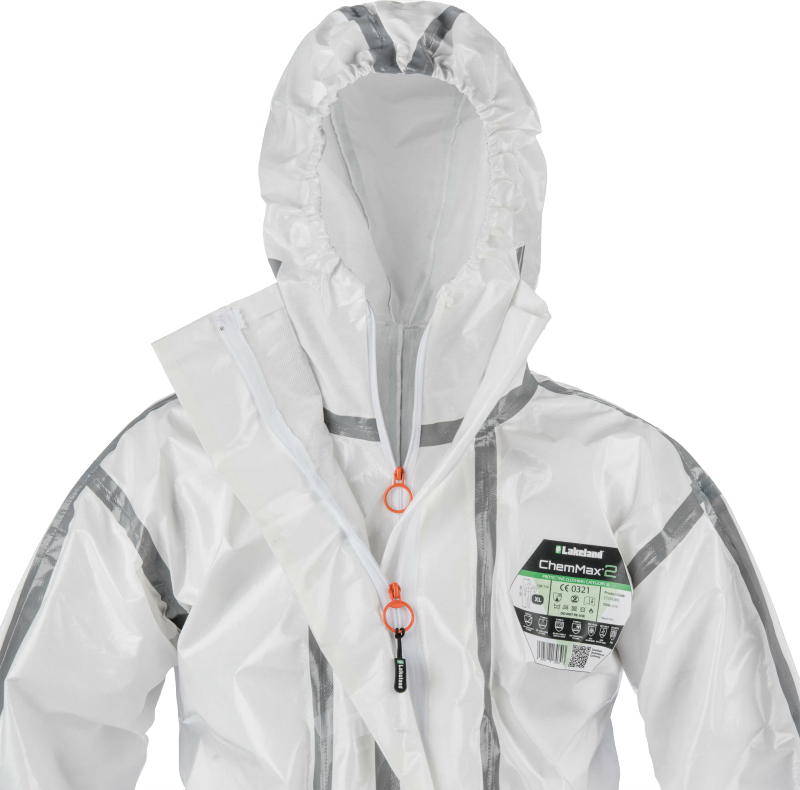 The front fastening of a garment is always a potentially weak point where the risk of ingress of a dust or liquid is highest. (the results of any Type 5 tests do indicate that the greater part of dust drawn inside a garment by "The Bellows Effect" is drawn through the zip).
The Super-B solution is a double zip and double storm flap arrangement that is easy to secure and ensures an effective seal at the front of the garment.
Push-lock glove connection system option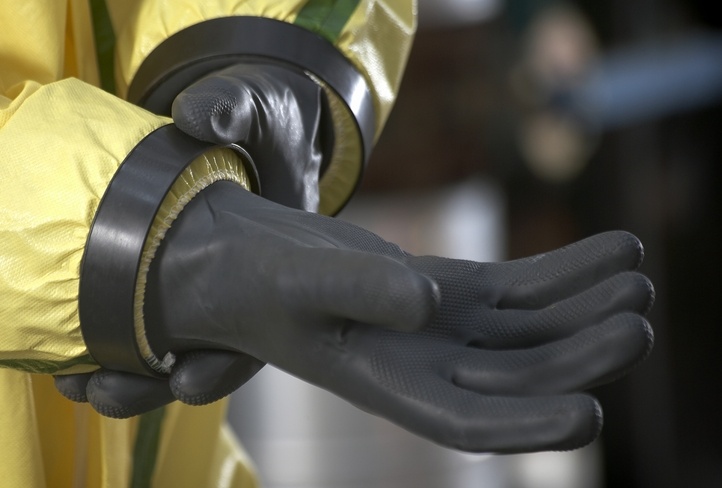 Lakeland unique Push-Lock Connection system is a simple method of connecting gloves to the garment sleeves using concentric plastic rings. The seal is strong and tested to the Type 3 jet test. Remember, the possibility of liquid penetration through gaps between the suit and other PPE is the greatest risk.
External CE Label
Another unique feature of Lakeland ChemMax Super-B garments is the external CE label. Certification to EN standards requires specific labelling of PPE. The labels must include particular information relating to standards met, notified bodies that have certified the product, date of manufacture, and so on.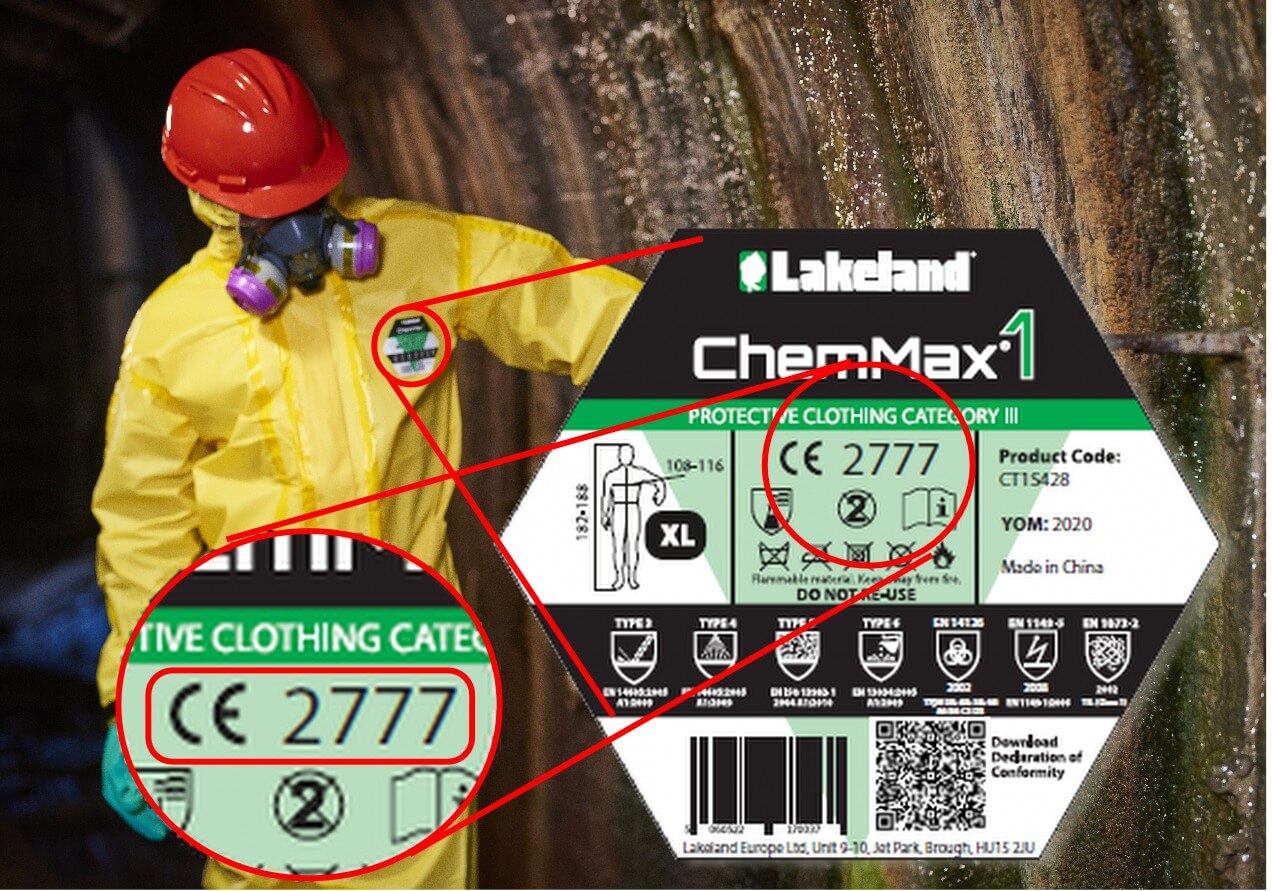 Most manufacturers hide this information away in a small neck label. Lakeland however added all the required information onto a bold chest label. This means all the information required is easily visible on-site and when in use by supervisors and managers so they can easily see at any time that the correct garment is being worn.
… and all the standard features you expect from the best in Chemical Protective Clothing… plus more!
Lakeland Super-B style garments of course include the elements and features you would expect as the bare minimum for the world's most comprehensive range of chemical protective clothing: –
Choice of fabrics according to the chemical in use (ChemMax® 1, 2, 3, and 4Plus) with a comprehensive search page on our website for all permeation test data.
Fully stitched and taped seams – the strongest and best seam for chemical protective clothing. The seam uses an impervious tape with a similar chemical barrier to the garment fabric. (beware garments that use a woven tape. Any woven fabric or tape has holes in it!)
Fully elasticated hood, cuffs, waist, and ankles
Options for garments combining chemical protection with FR properties (Pyrolon®)
ChemMax 3 and 4Plus work with our free-to-use smartphone app "Permasure®". This unique tool enables quick and easy calculation of safe-use times based on temperature and toxicity for over 4000 chemicals. You can find out more by clicking the image below.
…and to top it all, ChemMax Hazmat Suits are designed and made by the most experienced manufacturer of disposable chemical protective clothing in the world.
Finally, ChemMaX® Super-B chemical suits are backed by Lakeland. The manufacturer with over four decades of experience in the design, production, and marketing of chemical protective clothing. The first manufacturer of polymer-based disposable coveralls, with owned manufacturing facilities in 6 locations, distribution facilities in every global region, and a dedicated in-house sales team ready to assist with any enquires you have.

You can discover all the features of our unique Super-B style chemical protective clothing or read about the key things to look for when selecting your chemical protective clothing. (All standard features in ChemMax of course!)