What is the EPA's Worker Protection Standard?
The WPS, or the Worker Protection Standard, is the EPA's initiative intended to reduce the pesticide poisoning and injury that so often inflicts pesticide handlers and agricultural workers.
Thanks to the WPS, millions of people who work with pesticides— whether they're responsible for mixing, loading, or applying them, or they're one of the workers who are directly involved with the plants' production— are protected in the hundreds of thousands of farms, greenhouses, nurseries, and forests that cross the country.
As of November 2, 2015, more Americans than ever are protected from the dangers of pesticide exposure. The EPA's revisions to the WPS made agricultural workplaces healthier and helped hardworking families stay healthy, preventing mounting medical bills and lost wages due to illness.
The term "pesticide" is often used to refer to only insecticides, but it actually applies to all substances used to control pests. Most well known pesticides include not only insecticides, but also, herbicides, rodenticides and fungicides. Most all varieties of these popular types of pesticides will require the use of personal protective equipment while handling and applying them.
Who is Protected by the WPS?
The WPS protects pesticide handlers and agricultural workers. However, every worker isn't necessarily protected; the WPS recognizes two activities as having the potential to be at-risk for pesticide exposure.
A handler is essentially any worker who is at risk of pesticide exposure during the handling or applications of pesticides or subsequent cleanup and maintenance of equipment or containers.
Early-entry occurs after application and before the end of the restricted-entry interval for that pesticide. A number of pre-conditions must be met before early entry is permitted and only certain work activities are permitted.
Does the EPA or State Government Approve or Register Protective Apparel as Safe for Use?
The EPA doesn't approve or register protective apparel. While some protective apparel manufacturers might claim that they'll keep workers safe, the EPA regularly states that the EPA does not test products to verify manufacturers claims or specifically recognize any products as acceptable for use.
A garment manufacturer can make one claim. They can say that their garments "meet the requirements" of the regulations that the EPA or State Pesticide entities enforce. These statements are backed only by the internal testing of the manufacturer and are not validated by the EPA or any state agencies.
What is "Chemically Resistant" Apparel?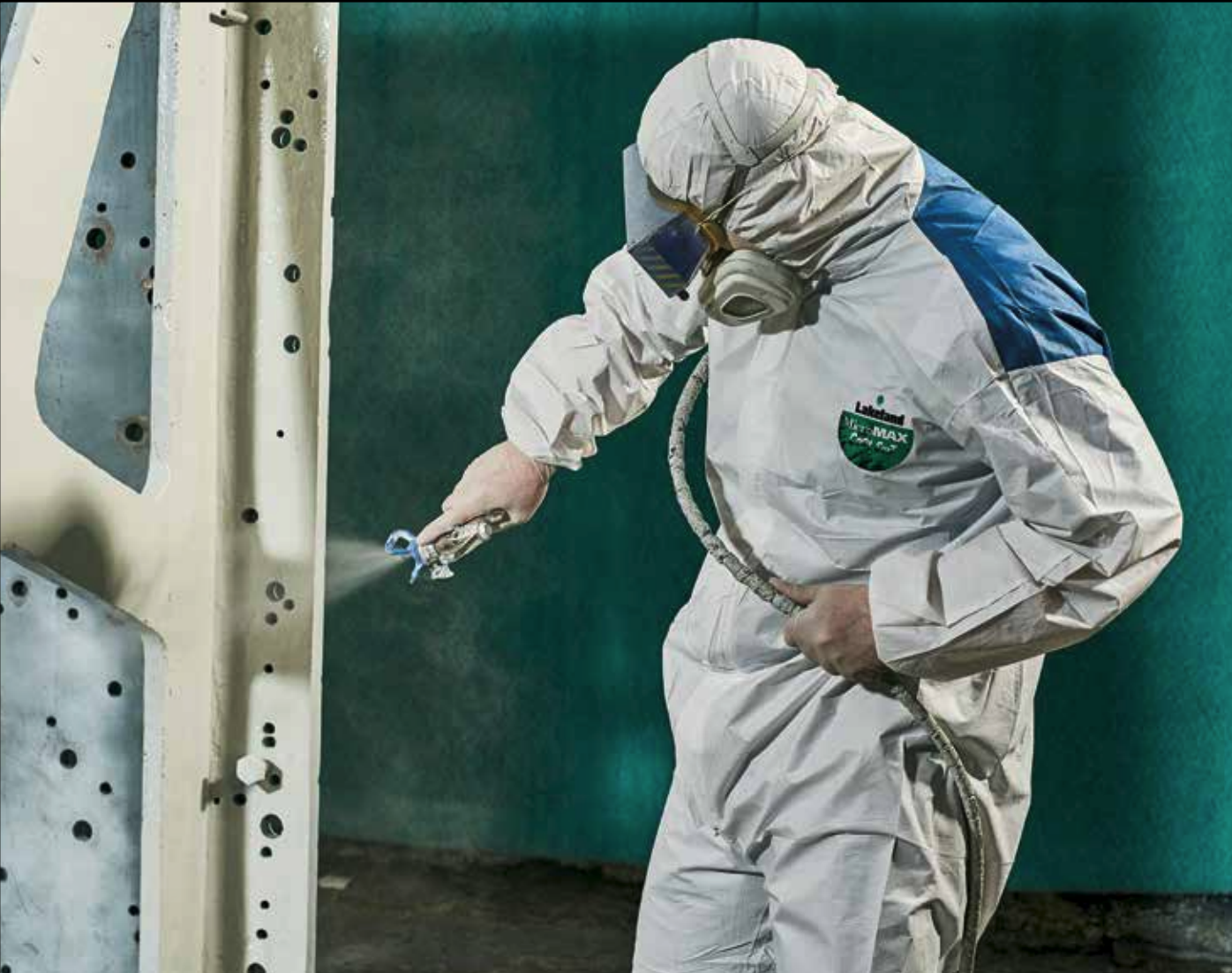 The EPA's requirements for coveralls are stringent. If you're seeking coveralls that meet the WPS's definition of chemically resistant (if dry particulate powders are being used as the pesticide), Lakeland MicroMax® NS Global garments fit the bill.
What is "Chemically Resistant and Waterproof" Apparel?
Lakeland's line of sealed seam ChemMax® products meets the WPS's definition of Chemically Resistant and Waterproof. Whether the MicroMax® NS Global line or the ChemMax® line is more appropriate depends on the way the pesticide is labeled. "Directions for use" are also visible on the pesticide label; this will determine how PPE clothing is to be utilized.
How Can Workers Select the Right Personal Protective Equipment?
Handlers should consult the portion of any pesticide's label that's headed,"Hazards to Humans" (and Domestic Animals) for information about their minimum PPE. Early-entry users should consult the section labeled Directions For Use for instructions about their minimum PPE.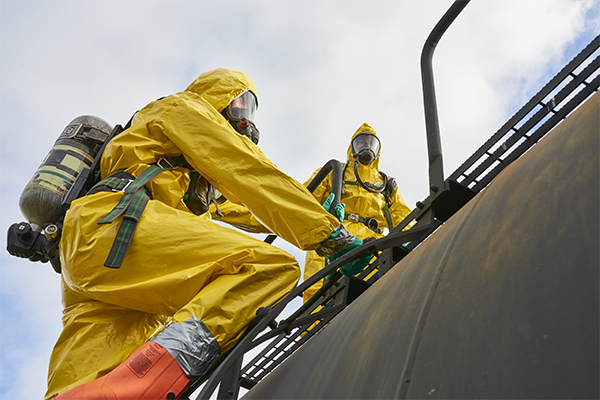 You'll find the requirements for body protection (including clothing like coveralls or chemical resistant suits or aprons, footwear, gloves, and eyewear) on both sections of the label. In some cases, the label will also list the requisite information for headgear and the steps that should be taken for respiratory protection.
In general, if the label states that long sleeved coveralls and pants are required, the MicroMax® NS Global line with a lightweight non-woven laminated barrier is appropriate to wear.
Understanding Pesticide Garment "Signal Words" and Labels
Pesticide labels must have "signal words" that describe the potential acute, or short term, toxicity of the formulated product.
If the label does not list the recommended PPE to use when handling the product, then these signal words should be your guide as to the level of precautions you should undertake.
Those signal words should be one of the following:
DANGER/POISON (highly toxic)
WARNING (toxic)
CAUTION (less toxic)
Regardless of the signal words on the label, all pesticides must be handled with care.
Using "Signal Words" to Select PPE
If the Pesticide label does not give specific PPE recommendations, then the listed signal words will be your best guide to determining the correct protection class which can be used to guide you to the correct level of protection.
Protection Class will be determined by the Signal Word on the pesticide label and can be utilized to select the proper protective coverall to use in the handling and application of that pesticide.
| | |
| --- | --- |
| Class I | Signal words DANGER or DANGER/POISON (highly toxic) |
| Class II | Signal word WARNING (toxic) |
| Class III | Signal word CAUTION (less toxic) |
| Class IV | Signal word CAUTION (least toxic) |
Characteristics of some commonly-used pesticide coveralls
Consult product manufacturer for more information
Material
Particulate
Protection Class*
Splash Protection Class*
Liquid proof?
Liquid chemical protection?
Breathable?
Relative cost

MicroMax

I

III

No

No

No

Low

MicroMax NS

I

III 

No

No

No

Low

ChemMax1 w/ surged seams

I

II

No

Yes

No 

Low

ChemMax1 w/ sealed seams

I

II

Yes

Yes 

No

Mod

ChemMax2 w/ bound seams

I

I

No

Yes 

No

Mod

ChemMax2 w/ sealed seams

I

I

Yes

Yes 

No

High

PVC coverall

I

I

Yes

Yes

No

High

PVC suit

I

I

Yes

Yes

No

Moderate
As you review State and Federal laws in your area, please note that some states go beyond Federal EPA laws, with stricter rules and regulations. Please be sure to check your state laws for more stringent rulings on this topic.
Why Choose Lakeland Personal Protective Clothing?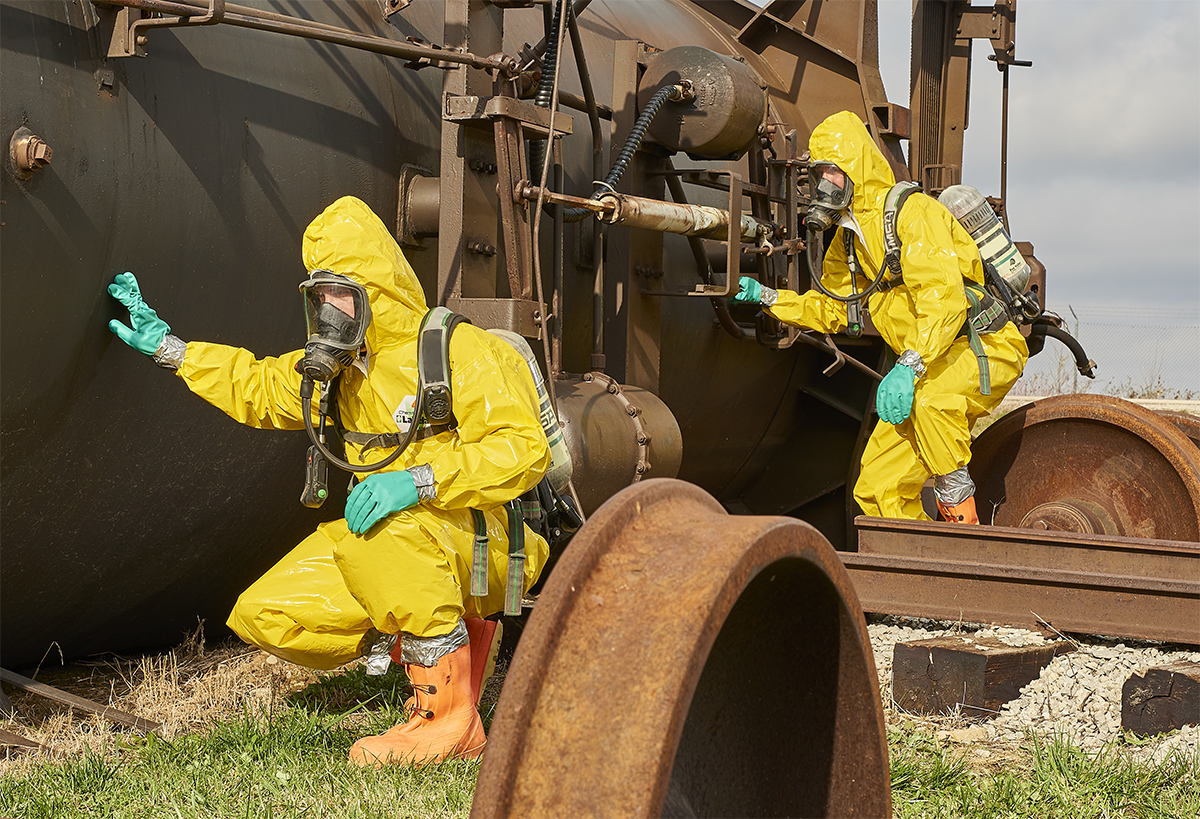 Lakeland® Industries is a global manufacturer of personal protective equipment, specializing in Disposable and Chemical Protective Apparel, FR/AR Clothing, and Protective Gear for First Responders.
For over 35 years, Lakeland® has provided products to the working professionals in Electric and Gas Utilities, the Oil and Gas Industry, General Manufacturing, Public Safety, and the Petrochemical sectors, keeping workers both safe and comfortable on the job.