Pyrolon® CRFR - Chemical Resistance and Flame Resistance in one Disposable Protective Garment
Designed to Protect You, and Your Primary FR
Pyrolon® CRFR fabric is the Chemical Resistant and Flame Resistant disposable option designed to protect your Primary FR and ARC Rated garments when chemical splash is a concern. Pyrolon CRFR fabric bars contaminating flammables like paint, oil and grease, hazardous liquids and contaminants, and dry particulates from penetrating to inner Primary Protective Garments, potentially saturating them with flammable substances.
Pyrolon CRFR Garment shown over Primary FR Garment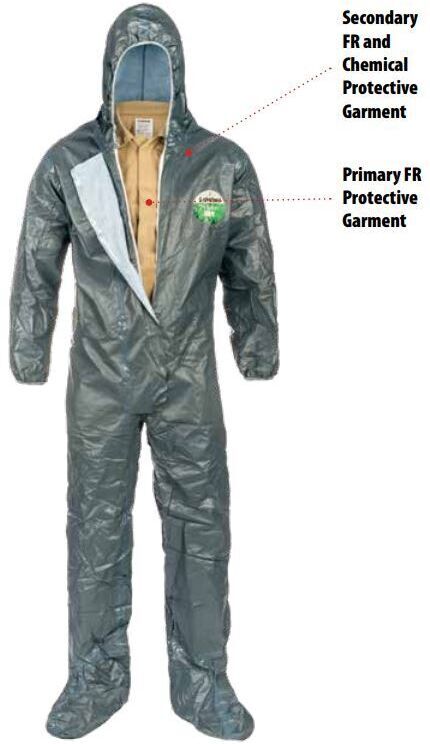 Chemical resistant garments made with Pyrolon CRFR are designed to be worn over Primary FR/ARC Protective Clothing for environments where flash fire is a concern. Utilizing Pyrolon CRFR when both chemical splash and flash fire are a concern helps the wearer meet the NFPA 2113 requirements for section 5.1.9.
Pyrolon® CRFR Brand Features
Combines Chemical Resistance with Flame Resistance
Does not melt or drip
Meets the NFPA 2113 Requirements for Section 5.1.9
Penetration Data for ASTM F903 Standard Chemicals
View All Pyrolon® CRFR Products
Resources
Pyrolon® CRFR Specifications
Seam Type:

Tape/Heat Sealed

Materials:

Disposable FR Spunlace; 2.5 mil proprietary FR barrier film

Garment Configurations:

Coveralls, Jacket, Pants, Apron, Boot Cover

Fabric Testing:

Penetration Data for ASTM F903 Recommended List of Chemicals

Temperature Rating:

200° F
Applications
Paint and Hazardous Liquids – Spray
Low Exposure, Low Risk Chemical Splash
High Exposure | High Risk
Hazmat, Non-Certified
Flammable Environments (Aerosol)
Flammable Liquids
Chemical Flash Fire
Paint Booth
Environmental Clean Up
Chemical Handling
Electric and Gas Utilities
Oil and Gas Industry
Petrochemical