ChemMax® 3 Garments- Advanced Chemical Protection for Industry, Emergency Response and Law Enforcement.
Leading-Edge Personal Protective Garments That Hold-Out Dangerous Chemicals
ChemMax® 3 fabric uses the latest technology to produce a superior chemical protective product. Durable and lightweight, ChemMax 3 provides a barrier against a broad spectrum of toxic industrial chemicals, dual-use chemicals, chemical warfare agents and other harmful contaminants.
Multi-Layer Chemical Protection
The multi-layer film is applied to a heavy polypropylene non-woven for increased strength and durability. The barrier film is significantly softer than other products on the market, resulting in a quiet, more comfortable garment.
ChemMax 3 garments offer excellent chemical barrier against a broad spectrum of toxic chemicals and other harmful contaminants.
Fentanyl: Protection for First Responders and Law Enforcement

Due to the Fentanyl opioid crisis, the risk of exposure to law enforcement, first responders, medical and prison personnel is extremely high. Learn more about this crisis and the recommended ChemMax® 3 products that can help protect you.
Supported by PermaSURE - ChemMax 3 App for Measuring Chemical Data and Safe-Use Times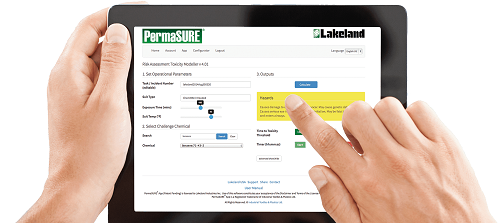 PermaSURE® Chemical Data Application Provides:
Free, mobile-friendly online tool
Models permeation rates and provides safe-use times by incorporating environmental, temperature and chemical exposure factors.
State-of-the-art technology developed initially by leading Polymer chemists for defense forces to quickly determine which suits are needed for various chemical warfare agents and dual-use chemicals.
Based on the known molecular characteristics and behavior of 4000+ chemicals interacting with ChemMax® 4 Plus. Read more about PermaSURE®
Push-Lock® Glove System
Lakeland exclusive Push-Lock® Glove system ensures a safe, accurate and secure connection between your glove and ChemMax 3 garments. The re-usable Push-Lock system is versatile and can be worn with any chemical suit that demands a secure connection.

Watch the video on the simple Push-Lock (formally known as "Push-Fit") connection process now:
ChemMax® 3 Brand Features
Excellent chemical barrier
Chemical warfare agent tested
Fabric is lighter weight and more flexible than all major competitors
View All ChemMax® 3 Products
Resources
ChemMax® 3 Specifications
Seam Type:

Heat sealed

Materials:

Multi-layer proprietary film applied to a heavy polypropylene nonwoven

Garment Configurations:

Coveralls, Jacket, Pants, Encapsulated Suits, Apron, Boot Covers

Fabric Testing:

Numerous Chemicals including the ASTM F1001 recommended list and Chemical Warfare Agents
Applications
Paint and Hazardous Liquids – Spray
High Exposure | High Risk
Hazmat, Maritime
Hazmat, Non-Certified
Chemical Handling
Petrochemical