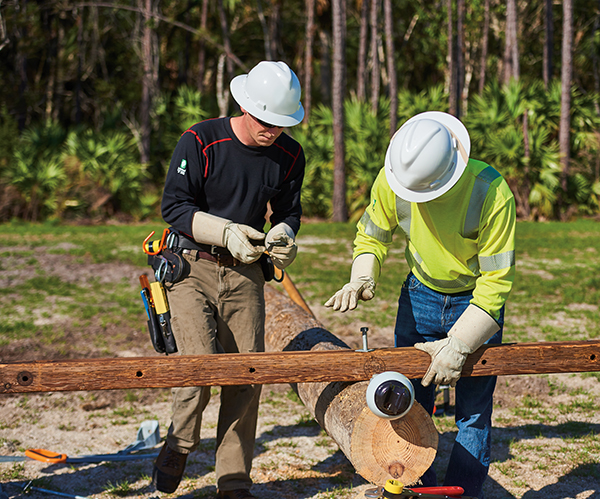 CAT and CAL ratings for clothing are critical to ensure workers are equipped to manage hazards associated with a worksite. Investing in FR/AR (flame-resistant/arc-rated) garments is one way to know that the clothing you are wearing has been specifically designed to keep you safe.
FR/AR garments are required to be clearly labeled with the kind and level of protection they offer. This helps users make educated clothing purchases to match their needs to their environment and the task at hand. With these ratings, you can layer efficiently, based on the ratings of the clothing you select.
As you seek garments that are right for you, consider how to maximize your investment and minimize the total cost.
Below, we outline key considerations for selecting CAT- and CAL-rated clothing starting with a review of how CAT and CAL ratings differ.
The Difference Between PPE Category Rating and CAL Rating
Two ratings that appear on all AR garments are CAT and CAL ratings, which go into detail about the protective qualities in the following ways:
CAT Rating: "CAT" is short for "PPE CATegory," and gives wearers an at-a-glance awareness of the category of protection the clothing provides. It lets wearers know how well the clothing provides against injury if there is an arc flash.
CAL Rating: In this case, "CAL" refers to a more detailed, precise measure of protection, and is labeled in calories, or the units used to describe the force of an arc flash. For example, an article of clothing with a CAL rating of 8.1 would provide protection if an arc flash was 8.1 calories or less.
These ratings are important because the CAT rating, in tandem with the CAL rating, can simplify the process of choosing FR/AR-rated clothing that will give adequate protection for whatever hazard is at hand. Too little protection and you could still be in danger of serious injury.
How can you tell if a CAT-rated garment or a CAL-rated garment will keep you safe?
CAT-rated AR garments are broken into four categories:
| | |
| --- | --- |
| CAT Rating | Minimum Arc Rating |
| 1 | 4.0 cal |
| 2 | 8.0 cal |
| 3 | 25.0 cal |
| 4 | 40.0 cal |
What's important to keep in mind is that it is vital to understand both CAT and CAL ratings because not all CAT-rated garments are created equal.
If you require a CAT-2 garment, one brand may offer 8.0 CAL protection while another CAT-2 garment offers 15 CAL protection. Which would you rather wear?
This is why it's crucial to understand both CAT and CAL ratings, and each garment you purchase should show both ratings on the labels—so you know you are fully protected. Some employers may tell you to purchase Category 2 clothing, or they may require you to wear a minimum of 15 CAL of protection. Knowing both ratings can help you make the right choice.
FR/AR Clothing Buying Tips
What should you look for when purchasing arc-rated and flame-resistant garments? Those looking to stay protected on the job should keep the following thoughts in mind:
Consider the Protection Required
When selecting FR/AR garments, your protection should first and foremost be rated to match your application and environment. This includes jobs like energy testing technicians dealing with high-powered circuits, industrial electricians who fix large machinery, or road workers who are at risk of uncontrolled arcs on supply wires or high-current conductors.
For this reason, clothing needs to match the protection required on each specific job site, based on the CAT and CAL ratings.
Consider Base Layers With A Higher CAL Rating
Some manufacturers of FR/AR garments offer base layers that are rated as CAT 1, but how often are you forced to add another layer to reach the desired level of protection?
Instead, be choosy about your base layers. Lakeland® offers a CAT 2 protection base layer, which means you may not have to add more layers to get the protection you need, which can be invaluable, especially if you work in the heat.
When you choose smart, you may only require one layer to achieve the right level of protection. This can also result in cost-savings. If one CAT 2 base layer offers all of the protection you need, you may only need to buy one shirt instead of two.
Most workplaces require CAT 2 base layers, which means there's no need to buy or own CAT 1 items—especially for layering. It just means more layers and higher final FR/AR clothing bills.
Ultimately, when selecting FR/AR-rated clothing, the best thing to do is to layer smart for your category requirement, paying special attention to the protection level, as well as the CAL and CAT ratings.
Take a look at these examples of Lakeland FR/AR-rated clothing to discover how simple it can be to achieve AR compliance.
Choose Clothing with Added Features to Improve Comfort
Why stop with selecting FR/AR-rated clothing just based on its CAT and CAL ratings?
If you work a standard, full-time job, you'll be spending at least 40-hours per week in your FR/AR clothing. Choose clothing that offers the protection you need and that is also designed to be comfortable and help you do your job better instead of getting in the way.
Look for added features like:
Seamless underarm gussets for full range of motion.
Flat seams for no rubbing or chafing.
Contoured tailoring that provides a safe, functional fit.
Tag-free collars for zero itching or distractions, with easy-to-read CAT and CAL ratings.
Improved mobility of arm movement.
A properly constructed FR/AR-rated garment should balance safety, protection, fabric quality, and comfort. Lakeland's FR/AR clothing has been designed specifically to outlast the elements, with safety and maneuverability in mind.
No matter what size or shape you are, Lakeland has safe clothing that's designed to fit you well, with added features like gussets so you never feel restricted while you're working.
Working in the heat?
Why not choose FR/AR clothing that's designed to wick away moisture to boost your comfort level. With advanced, moisture-wicking technology, you can stay comfortable and dry, which prevents overexertion, keeps you focused, and reduces the risk of accidents.
Our moisture-wicking clothing:
Absorbs moisture and sweat with hydrophilic fibers
Pushes moisture and sweat away from the body with hydrophobic fibers
Pulls moisture and sweat through the garment to the outside
Spreads moisture on the outside of the garment quickly, so it can dry fast

Durable, Well Constructed FR/AR Garments Will Last Longer
Your FR/AR clothes need to do more than just meet CAT and CAL rating requirements to make for a good investment. The last thing you want is to have to buy new work clothes over and over again.
Lakeland offers clothing made with high-quality fibers and solid construction to last longer than other brands.
Lakeland's FR/AR-rate clothing is durable. Just take it from some of our happy customers:
"I've worn the waffle hoodie for almost 2-1/2 months straight. The hoodie is very comfortable and has held up very well. What got me hooked on the shirt was the built-in neck gaiter. It is easy and convenient to lift up and down anytime and for providing face protection whenever there is an arch exposure." – Bill, Lineman, Danville Utilities

"I've been wearing the high-performance FR jacket for over a year. The jacket holds up well and is very comfortable and warm. The cut is perfect and it keeps the wind out." – Paul, Lineman, Danville Utilities

"In spring and summer, it's hard to find an FR jacket that is comfortable and not too warm. The FR jacket is easy to throw on if it's a little chilly or drizzling and it's very comfortable. I love the pockets, especially the zip-up breast pocket." – Larry, Lineman, Grant County Utilities
Understanding what to look for can help you make a smart investment in FR/AR clothing for the new year, no matter how your FR/AR clothing purchases are managed.
Regardless of whether you are spending your own money or employer funds to find clothing that will keep you safe and comfortable, choosing the right garments is all about maximizing your protection and performance.
Have questions or want to learn more? Contact us today.