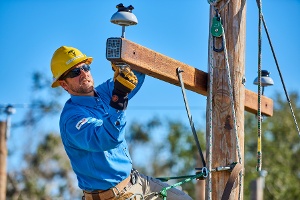 In the hot, humid summer months, the seemingly only concern on the mind of lineman and industrial workers is "how can I stay cool?"
The answer is simple. One of the most effective ways to combat heat stress is to modify your workwear.
But modifying workwear goes beyond just picking new FR clothing; it means finding FR clothing that is designed with permanent moisture wicking fibers that will help keep you cool by pulling moisture away from your skin. Lakeland was featured in Industrial Safety & Hygiene News as an expert on this topic. Keep reading below to learn more.
What Does Moisture Wicking Mean?
What is the meaning or definition of moisture wicking fabrics? Wicking fabrics are designed to pull moisture from the body, through the fabric to the outer surface where it can evaporate. This process is what helps keep you cool, even as you sweat.
As a result, FR clothing that has been created using a blend of wicking fibers is your best chance at staying cool in hot weather. But the key here is to look at your garment tag. You must ensure that the garment you select has permanent moisture wicking capabilities, meaning, it's not just a "finish' that will wash out over time.
As you look at the tag, make sure it is a blend of hydrophobic and hydrophilic fibers, typically close to a 60/40 blend. This will show that the garment has permanent moisture wicking capabilities.
Stay Cool with Lightweight FR Fabrics and Functional Design
As you seek to stay comfortable in hot weather, choosing an FR garment with a lightweight, functional design can make a big difference.
But don't always opt for what might be touted as 'lightweight' apparel.
Just because a garment is Category 1 and deemed 'lightweight' doesn't mean it will actually keep you cooler. The Category or Cat level of protection has nothing to do with how well a garment wicks moisture or keeps you cool.
A garment with moisture wicking fibers can provide greater benefits than those deemed 'lightweight', because it will help you stay cooler by pulling sweat away from your body.
Moreover, opt for an FR shirt that focuses on functionality, in addition to comfort. A properly constructed FR garment should offer a balance of safety, protection and fabric quality, without compromise.
Look for things like:
Choosing an FR garment that lets you stay focused on the job is critical to help prevent heat stress and associated occupational hazards.
Take a look at our other articles that dive into the topic in detail:
Lakeland set out to create the industry's only moisture management layering system that offers superior protection, performance and comfort. Lakeland FR performance apparel offers dual-certified protective apparel with advanced moisture wicking technology and a lightweight design with maneuverability and comfort in mind. Learn more by following Lakeland on Facebook, and be sure to #AskForLakeland.