Choosing the right rainwear for your environment is critical. Not only do you need to remain protected as the weather turns damp and stormy, you need to make sure you are safely protected from the dangers of your surroundings: flash-fire and arc-flash scenarios.
But when you choose any type of FR rainwear, you're protected, aren't you?
Not necessarily! Just because something is labeled as 'FR' doesn't mean it has been tested and rated for flash-fire.
Continue reading below to learn the distinction between flame-resistant, and flash-fire rated apparel and what standards and tests you should look for as you select protective rainwear garments.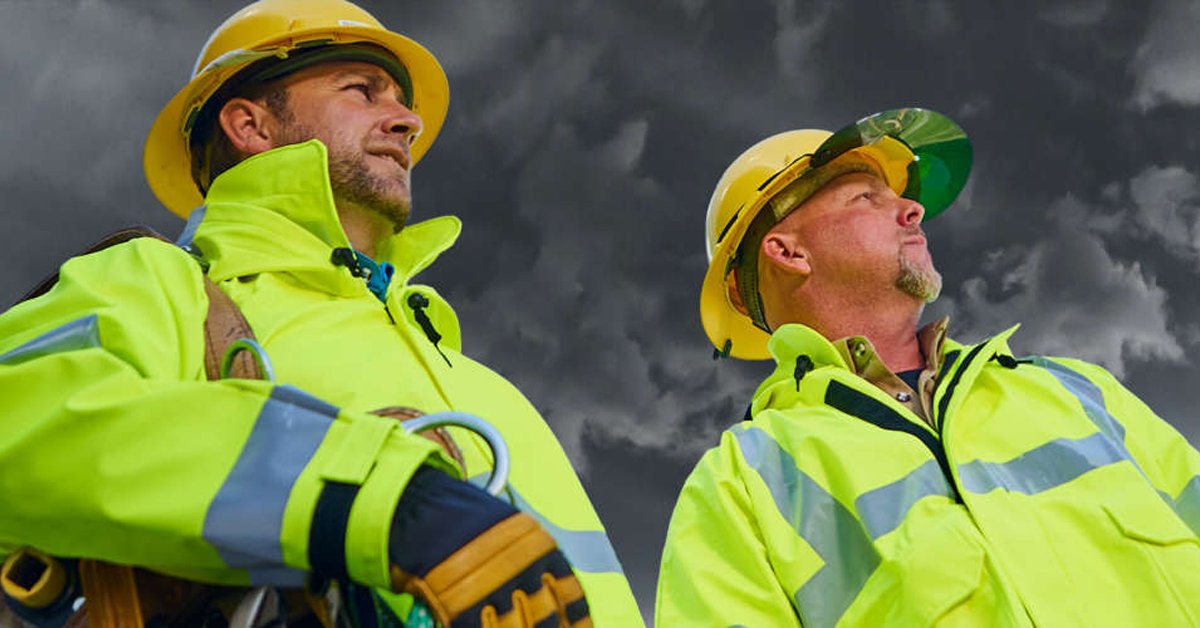 What is FR/AR Rainwear?
To understand the safety standards associated with rainwear, we must first dive into an understanding of the key protective terms: flame-resistant and arc-flash.
What does flame-resistant mean?
"Flame resistant" is used to describe protective garments that are manufactured with flame resistant fabrics that will self-extinguish if exposed to a flame and will not continue to burn after the flame is removed.
To be classified as Flame-Resistant, protective garments must pass ASTM D6413, also known as the Vertical Flame Test. After a garment is exposed to a flame, afterflame, afterglow, and char length are measured.
What does arc-rated mean?
The term "arc rated" comes from NFPA 70E, Standard for Electrical Safety in the Workplace. It is defined in the standard as "the value attributed to materials that describes their performance to exposure to an electrical arc discharge." Arc-rated means that a garment's material has been tested for exposure to an electrical arc and protects the wearer adequately.
FR garments that do not have an arc rating have not been tested. So, it's imperative to understand that all arc-rated clothing is FR but not all FR clothing is arc-rated.
What does flash-fire rated mean?
"Flash Fire Rated" clothing is defined as having 40% or less predicted body burn in 3 seconds of flame exposure, according to the specifications of ASTM F2733.
Just because something is labeled FR/AR doesn't necessarily mean you are protected. It's important to understand the standards and how garments are actually put to the test.
How the Standards Can Be Misinterpreted
ASTM F1891 Explained
As you select rainwear, many people assume a garment is FR if the fabric passes ASTM F1891. This standard is designed to address how a fabric reacts to flame. A fabric successfully passes ASTM F1891 if it does not ignite, melt or drip if exposed to flame and will self-extinguish.
But testing whether a fabric sets on fire, or not, tells nothing about the level of wearer protection from body burn, or whether the garment actually protects from flash fire specifically.
ASTM F2733 Explained
According to the National Fire Protection Association, a flash fire is, "A fire that spreads rapidly through a diffuse fuel, such as dust, gas or vapors of an ignitable liquid, without production of damaging pressure."
To test a garment for flash fire requires a higher testing protocol. The ASTM F2733 standard puts an actual garment on a thermal mannequin and then records the percentage of anticipated 2nd and 3rd degree body burn levels of someone wearing the garment in a 3-second flash fire. The standard is designed to protect workers by ensuring that protective garments lower the percentage of body burn and severity upon exposure to a flash fire. To pass this standard, the total body burn of the wearer must be less than 40%.
Consider this important fact: ASTM F2733 is a self-declaration standard; third-party testing or certification is not required for compliance.
If flash fire is your concern, you have to look beyond ASTM F1891 to the actual F2733 flash fire standard and ensure your manufacturer has tested its rainwear garments appropriately.
ASTM F1891 1.1.2 is also critical to consider. This specification does not apply to flash fire hazards such as industrial hydrocarbon flash fires or other petrochemical flash fire hazards. If you require protective rainwear for these more dangerous applications, make sure your manufacturer has tested its garments accordingly so your workers are adequately protected.
Before you select FR/AR rainwear, make sure you understand your environment and application to determine whether your rainwear garment will actually protect you as dangers arise. Beyond protection, there are also other considerations for garment selection; is your rainwear garment designed not only to protect you but to be comfortable and durable?
What are the Key Design Attributes of Optimal FR/AR Rainwear?
1. Safety
Safety is your top priority on the job. Choose rainwear garments designed with optimal, inherent safety features to protect users.
In addition to protection from arc and flash fire hazards, consider the importance of a D-ring pass through. This subtle, yet critical feature, accessed through a vent in the back of the jacket, creates a quick clip to connect to fall-arrest equipment.
For enhanced safety, you should always seek an FR/AR rainwear garment with high visibility. Hi-vis, reflective fabric makes you more visible, especially important at dusk, dawn, and other low light situations, like rough weather. Always look for protective garments with an ANSI 107 visibility rating.
2. Comfort
Staying comfortable on the job allows you to stay focused on the task at hand. Comfort-focused features can help improve your ability to manage changes in temperature, precipitation, and humidity.
An oversized hood, for example, easily lifts over and covers your hard hat, keeping rain from running down your neck and back, and keeps underlayers dry.
A mesh-lined vent on the back of the jacket provides breathability to help your body maintain thermal comfort by releasing heat generated by hard work, leaving your skin surface cooler.
Adjustable jacket cuffs allow you to custom-size your sleeve length for optimal fit and comfort.
Perhaps one of the most important considerations is what happens when you're working and walking in mucky, wet conditions. Many brands offer a protective cuff at the boot and bottom of the jacket, but Lakeland® ArcX® is the only line of AR/FR rainwear that offers a 3" internal anti-wicking moisture dam on the bottom of the jacket and pants to prevent moisture migration.
3. Convenience and Durability
Look for rainwear featuring well-thought-out design elements to help keep you organized and to improve the ease of donning and doffing. These added design features maximize your ability to work effectively. Whether it's oversized pockets in the jacket, a self-stowing hood, or the use of high-frequency-sealed seams, the small details make a big difference in performance.
How is your current rainwear garment designed for convenience and accessibility?
Get to Know ArcX® FR/AR Rainwear
Lakeland's ArcX® premium quality line of FR/AR rainwear will help make turbulent weather days more comfortable and a lot safer. With both Polyurethane (PU) and Polyvinyl Chloride (PVC) configurations, the entire line of ArcX® products offer comfort, durability, and an abundance of features.
Lakeland Industries' protective gear has established and maintained a global reputation for overall quality and is recognized as the field's gold standard.
Our mission is to protect you and provide you peace of mind and confidence to keep your focus on the task at hand. You can trust in our experience, expertise, and, most importantly, our proven track record of superior garment performance on the job.
Learn more by following Lakeland on Facebook, and be sure to #AskForLakeland.
Sources:
National Fire Protection Association: https://www.fpa.org/