The primary purpose of PPE is to prevent injury, but comfort and fit can dramatically influence whether workers wear it correctly. If a PPE suit is uncomfortable, the chances of a worker readjusting it (and possibly compromising the protection it offers in the process) increases significantly.
The implications are far-reaching; from employee health and safety issues to legislative bodies taking legal action.

But is there room for comfort? We think so. For too long PPE decisions have been made without sufficient consideration of the actual work environment. The result is the selection of PPE which does not offer the level of comfort or flexibility the workers require, thus leading to them wearing it incorrectly.
A while ago, I visited a plant that manufactured paint pigments in fine powder form. The workers were complaining about dust getting into their PPE – through the fabric of the suit!
Upon further investigation, however, it emerged that the dust wasn't going through the fabric at all, but that the workers were ripping or cutting holes in their garments to make them more comfortable to wear.
Unsurprisingly, the dust was passing through the holes.
There is, however, a solution: PPE Cool Suits.
What are PPE Cool Suits?
PPE Cool Suits are chemical protective garments that are designed to provide higher levels of breathability (and therefore comfort) with minimum compromising of protection offered. In this blog, we'll run through the impact of uncomfortable PPE and the key design features that Cool Suits provide to help tackle these problems.
Result of improper suit selection
PPE suits that are uncomfortable present two issues; firstly, workers expose themselves to hazards. This can be particularly problematic in environments where the damage done by chemicals is not 'immediately obvious'. For example, certain chemicals will cause irritation or burn the skin on contact, such as acids and solvents. Chemicals like Benzene, on the other hand, may have little in the way of immediate effects yet prolonged exposure can be devastating to a worker's health.
Secondly, from a compliance perspective, the safety manager and the business are held accountable for the health and safety of workers. It's their responsibility to ensure workers are equipped with (and using properly) the appropriate workwear and tools. If the majority of workers are wearing PPE incorrectly as a result of discomfort, it becomes apparent that the testing phase wasn't comprehensive enough.
Dips in morale and productivity
Inappropriate workwear will affect morale and the amount of time workers can spend doing a task. For example, in chemical plants heat and moisture can get trapped in a coverall, leading to discomfort. To remedy the problem, workers might remove their gloves or hoods or unzip a coverall, exposing themselves to chemicals in the process. Also, due to the heat exposure and discomfort, workers are likely to work less accurately, at lower rates and will need to take more breaks, reducing productivity. Worse, uncomfortable workers are likely to pay less attention and be less focused, increasing the probability of accidents.
Now if workers were wearing coveralls with breathable back panels, air would be able to flow through the back panel of the suit – helping to keep them cool and allowing them to work on the task for much longer. The result? Better morale and productivity across the plant.
Does it do what it says?
Given how important comfort is, many manufacturers will claim that their PPE is ergonomically designed; but until it's tested in a representative scenario using real-world applications and passes, is it really fit for your specific purpose?
Remember: PPE is tested in laboratory conditions, far removed from the day-to-day rigors of a chemical plant. So whilst the suits may well be "ergonomic", it's important to run an initial test to see if it meets the requirements of your application and workforce.
One such example of ergonomic coveralls are chemical Cool Suits. These suits are designed to provide both comfort and protection.
Key Features of Cool Suits
Cool Suits can be used in several environments to help tackle discomfort felt by workers wearing standard chemical suits. This is achieved through the garment's design; critical areas (front of torso, legs, arms and head) use standard fabric whilst the back of the garment features a panel of breathable material.
As well as enabling some breathability of the coverall this also helps to reduce the 'bellows effect' – a phenomena that results in air and dust particles are sucked through seams, cuffs, ankle holes or the zip. Further, the bellows effect also helps the Cool Suit to work by actively pumping air in and out through the vent during movement.
How do Cool Suits work?
The breathable back panel on Cool Suits is made from Safegard SMS material – a triple layer SMS fabric which combines effective liquid and dust repellency (sufficient for Type 5 and 6 protection).
For a higher level of protection to Type 4, the breathable panel is protected by a cover of the same fabric as the rest of the coverall. It's then sealed at the top and sides and left open at the bottom with a generous overlap. This allows air to circulate in and out of the coverall, via the bottom of the breathable panel cover, whilst ensuring Type 4 spray protection is provided with little compromising of protection.
*Note: Some applications may not be suitable for Cool Suits. For example: where strong splashes or sprays of liquids may penetrate up the back of the coverall and may directly access the breathable panel. Such circumstances are relatively rare, however, and in the majority of situations Cool Suits will provide perfectly adequate protection.
We offer several Cool Suits for Type 4, 5 and 6 applications – MicroMax NS, MicroMax TS, ChemMax 1, ChemMax 3 and Pyrolon CRFR.
The MicroMax NS features a main coverall of microporous film laminate fabric for superior protection and a breathable SafeGardTM GP rear panel to offer air permeability. For Type 5 & 6 applications
The MicroMax TS features a coverall of MicroMax NS fabric with stitched and taped seams and a covered rear SafeGard GP breathable panel. For Type 4 applications.
ChemMax 1 & ChemMax 3 Cool Suits
The ChemMax 1 and 3 Cool Suits use the innovative covered breathable panel design to allow circulation of air into the suit whilst maintaining protection for Type 4 applications.
ChemMax 1 offers chemical permeation resistance against a broad range of hazardous chemicals. ChemMAx 3 offers high level protection against a wider range of chemicals. Review our chemical permeation database to see the full range of chemicals tested.
The same design as the ChemMax 1 & 3 to provide comfort with protection, but using the Pyrolon CRFR fabric for the main coverall and Pyrolon Plus 2 fabric for the breathable rear panel.
The use of Pyrolon fabrics (CRFR for the main coverall and Plus 2 for the breathable rear panel) means this suit not only provides breathable chemical protection but is also Secondary FR Workwear to EN 14116: Index 1. The fabric will not burn or ignite so, unlike standard chemical suits, Pyrolon CRFR can be worn as Secondary FR Workwear over traditional Primary FR garments without compromising thermal protection.
The chart below will assist in determining when you need a cool suit, as well as what type is suitable for your application: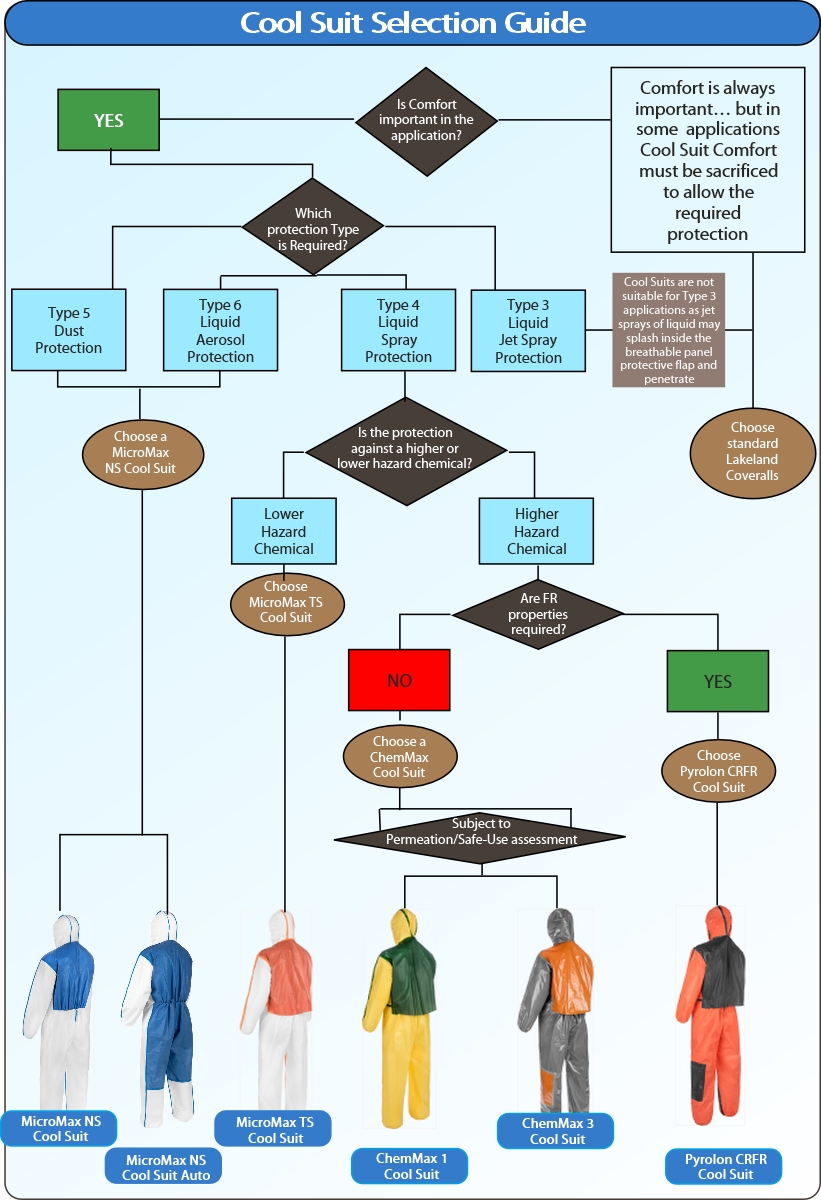 Why is the difference between Type 3 and Type 4 important?
Vital in understanding when a Type 4 breathable Cool Suit can be used is an understanding of the difference between Type 3 and Type 4 applications. This is best recognized through an understanding of the difference between the Type 3 and 4 whole garment tests used in certification.
Whereas Type 3 features strong, pressurized directional jet sprays of a liquid hitting particular points of the garment, Type 4 features general "shower" type sprays that soak the garment but apply little or no pressure. You can review videos of the Type 3 and 4 tests below:
Most real-world applications are Type 4 rather than Type 3 and understanding the difference between these tests and therefor between the related applications, it is clear that for most Type 4 applications a Cool Suit is appropriate and will provide effective protection along with improved comfort. Recognizing that an application is Type 4 rather than Type 3 therefor, with a few exceptions, means you can use a Cool Suit… and gain all the comfort benefits that go with it…
---
Hopefully you should now have a better understanding of how important comfort is and can be in the PPE suit selection process – along with when and where you can select a Cool Suit and gain the comfort benefits associated.