CleanMax, Lakeland's high-quality range of disposable garments for use in cleanrooms is now available in Europe – fully certified to all relevant critical environment and EN standards… and more.

Confidence in Your Cleanroom Apparel
Cleanrooms are a demanding environment. Not only is it vital that critical environment apparel ensures the product, process or sensitive equipment remains uncontaminated by the wearer, in many cases it must also ensure the wearer is protected from any liquid or particle hazards in the environment. Those purchasing clothing for use in cleanrooms must be confident that their chosen brand covers all the bases.
In addition, availability of critical environment apparel is paramount. If you don't have it the job stops – which can be a costly disaster. So, as well as feeling confident that it will do the job it needs to, you must be sure you will have it available where and when you need it.
So it's good news that Lakeland CleanMax® critical environment clothing is now available for users throughout Europe. Based on superior quality microporous PE film laminate, and backed by Lakeland's four decades of experience in the design, development and manufacture of protective clothing, CleanMax® includes a range of standard design features that means you can be sure it does what your cleanroom demands.
Be assured that every CleanMax® garment:
Achieves IEST-RP-CC003 Category I Particle Cleanliness

Is latex & silicone free

Is compatible with ISO Class 4 to 8 cleanrooms and controlled environments

Is certified to EN CE Type 5 (hazardous dust protection) and Type 6 (light liquid aerosol spray protection)

Is resistant to blood, body fluids and viral penetration. CleanMax® is tested to both US and European standards including ASTM F 1670, ASTM F 1671, and EN 14126 – including testing to all 5 tests in the EN 14126 standard and achieving the highest class in each (To discover more about testing involved in the biological hazard protection standard EN 14126 read our blog here)

Resists penetration of oils, bleach and light chemicals.

Is available in both Clean Manufactured and Clean & Sterile versions. (all CleanMax 


are clean manufactured whether sterile or not sterile!)

Tested against cytotoxic drugs

Sterile versions achieve a sterility level of 10-6 SAL with a red dot indicator on the packaging


Global Cleanroom Apparel to Meet a Global Need
CleanMax® has been designed with a global marketplace in mind. Design, labelling, and packaging are the same whether you wear it in Berlin or Bombay or in Tokyo or Tampa. This means stocks can be easily and quickly shipped for use anywhere in the world. If we don't have it locally, we will have it available for rapid shipment somewhere.
But local stocks are vital to maintain consistent supply as you need it. Lakeland Industries is a leading global supplier of protective clothing with multiple manufacturing locations and sales, storage and distribution facilities in every major geographical region. Supply is assured. And when we designed CleanMax® we ensured that any local, regional legal or market demands are met and catered for. CleanMax® is a true global product.
Features and styles designed to Maximize Protection and Confidence
To complete the picture CleanMax® critical environment apparel is designed with a range of features to ensure they do the job of protecting the environment they should as well as protecting the operator when needed. In addition to production within Lakeland's own secure manufacturing facilities following the best current Good Manufacturing Processes (cGMP) amounting to cleanroom conditions, garments features include: –
fully bound seams to minimize penetration through stitch hole,
tunnelized elastic to hood, wrists and ankles
a double bagging system incorporating a specially developed aseptic folding method that allows donning without touching of the outside surface.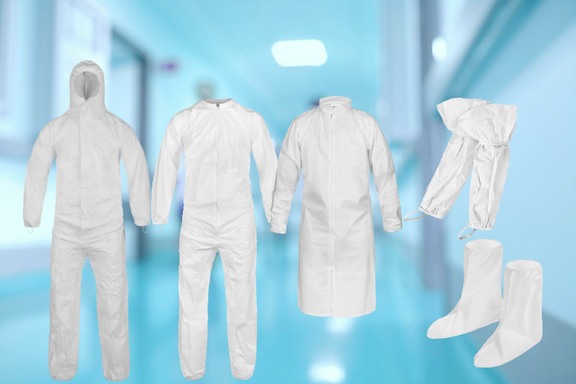 CleanMax® is available in a range of styles including coveralls with or without attached boots and separate overshoes, overboots, sleeves and gowns.