Selecting a FR/AR high visibility vest is essential for workers in a number of industries where staying visible is the key to staying safe.
But what are the key qualities to look for in a FR high visibility vest?
There are several attributes of your protective apparel that can increase not only your safety on the job but also your comfort and job effectiveness.
Below, we show you exactly what to look for in an FR/AR hi -vis vest in our infographic and also explain each attribute in detail.
[Download FR/AR hi-vis Vest Infographic]
High Visibility Vest Optimal Design Features
1. Inherently FR Fabrics
Look for a hi vis vest that offers flame-resistance built into every fiber. Static Dissipative and FR properties won't wash out or wear away over time with inherently FR fabrics made by GlenGuard®. This will keep you and your team safe and protected for the lifetime of your garment.
2. Static Dissipative Materials for Superior Protection
By choosing a vest with static dissipative materials, you eliminate the threat of static sparks. Modacrylic/Aramid hi vis vest materials made by GlenGuard® feature a carbon core fiber designed to allow static charges to dissipate through the material for additional safety in hazardous atmospheres.
3. Comfortable Design Made with Modacrylic Fabric
Wearing a vest shouldn't make you uncomfortable. Vests made with soft, strong, and resilient modacrylic fabrics are your best choice. Staying comfortable on the job is critical for safety, so be sure you can move and maneuver with ease in your vest.
4. ARC-Rated for Improved Safety
In your line of work, site circumstances can change at any time. Lakeland's hi vis vests have a CAL-rating and protection from Arc-Flash scenarios.
5. Class 2 and Class 3 Rated Protection
Choosing the right garment for your application and environment helps you stay visible and safe. What protection is right for you?
ANSI 107-2015, Class 2 specification garments are ideal for users who require visibility and protection in poor weather conditions and near roadways.
ANSI 107-2015, Class 3 specification garments are designed for use in utilities, emergency response scenarios, and high-risk environments, with added protective coverage for your arms and a high level of visibility.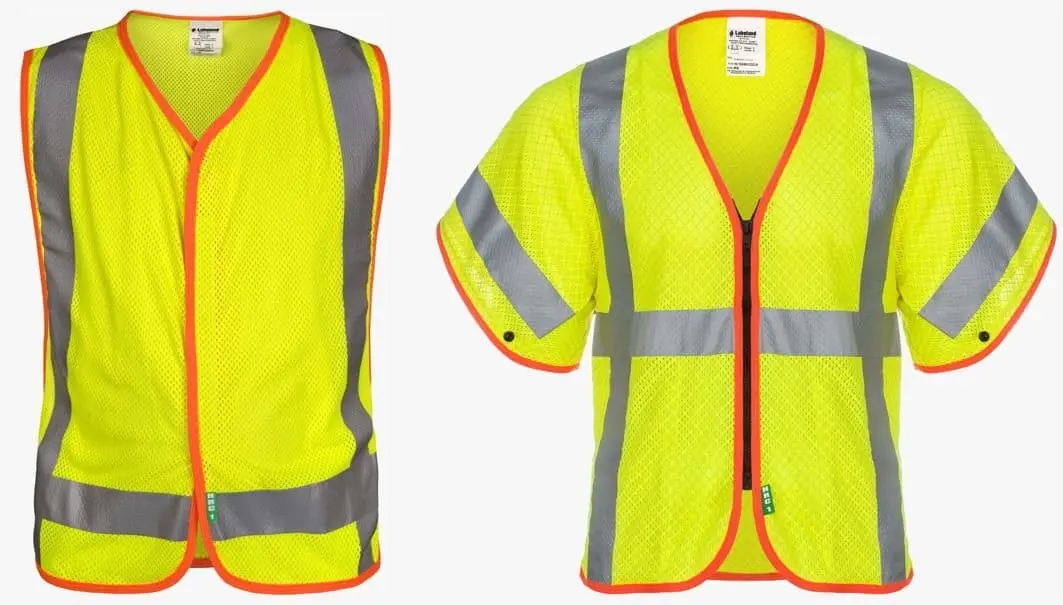 6. Snap Closures for All-Weather Wear
The ability to easily layer up or down and maintain the use of your vest is important on the job. Use the ingenuity of snap adjustments on the side and shoulder of your vest to adjust the size based on the garments you are wearing.
7. A Built-In D-Ring Pass-Through
Choosing a vest with safety features built into the design means one less thing for you and your team to worry about on the job site. Lakeland's vests make it easy for you to connect to a fall protection harness with a built-in d-ring pass-through.
8. Non-conductive Zipper Front Closure
Smart design elements, like a non-conductive zipper closure, keep you safe and make it easy to don and doff your vest.
9. 3M™ Scotchlite™ Reflective Material 2" silver trim by 3M™
Scotchlite™ provides maximum reflectivity and visibility in even the darkest conditions.
10. The Ability to Personalize Your Garment
Lakeland offers FR/AR and general, non-FR/AR safety vests that you can customize with your logos or ID panels. Choose from a variety of standard imprints, or send us your own.
Stand out and stay safe by choosing a hi vis vest designed with optimal design features to help you perform at your best.